Daria H.
Responds within 3 hrs, to 100% of messages
Description
Photos & Certificates
Answered questions
Description
Ich bin Daria, Sprachwissenschaftlerin, Übersetzerin und Englischlehrerin.

- Möchten Sie Ihre Englisch-Kenntnisse auffrischen oder die Sprache neu lernen?
- Brauchen Sie Englisch für Dienstreisen oder Besprechungen?
- Wollen Sie Ihre Noten in der Schule verbessern?
Ich helfe Ihnen!

Der Unterricht findet online über Zoom, jitsi oder auf einer interaktiven Lernplattform statt. Ich plane und erstelle jede Unterrichtseinheit mit interaktiven Online-Übungen, authentischen Texten, Videos und Aufgaben abhängig von Ihrem Ziel und Ihren Interessen.

Für mich ist es wichtig, dass Sie im Unterricht möglichst viel Englisch sprechen. Ich benutze die kommunikative Methodik und den Lexical Approach: Beide helfen, den Wortschatz schnell zu erweitern und die Grammatik nicht nur zu lernen, sondern auch zu benutzen.

Ich habe einen Masterabschluss in Anglistik/Amerikanistik, einen B.A. Übersetzungswissenschaft und eine pädagogische Zusatzqualifikation. Außerdem habe ich ein Jahr lang in England studiert (University of Reading) und gearbeitet. Ich habe die Zertifikate IELTS (8,5) und TESOL.

Preise:
Unterricht in Kleingruppen: 15 EUR / 75 Minuten
Individueller Unterricht zur Verbesserung der Sprachkompetenzen: 27 EUR / 60 Minuten
Individueller Unterricht zur Prüfungsvorbereitung: 30 EUR / 60 Minuten.

Wir können gerne eine kostenlose Kennenlernstunde vereinbaren, um über Ihre Ziele zu sprechen, einen Englischtest zu machen und Ihren persönlichen Lernplan zu erstellen.

Ich freue mich auf Ihre Anfrage!
pictures and certificates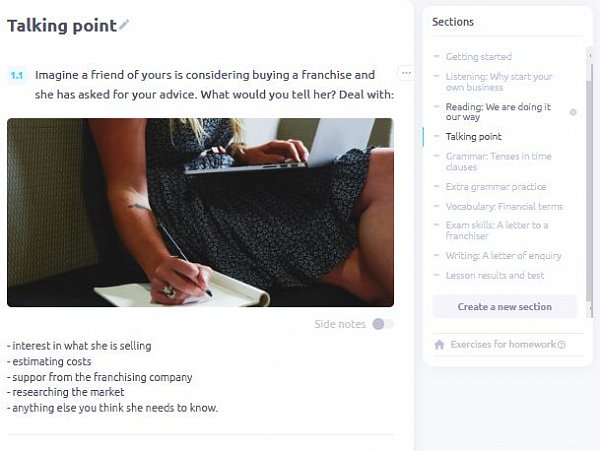 Answered questions
(1)
This tutor has helped to answer these study questions